If you've recently bought a new Ford F-150, you may be interested in modifying it with larger tires. Before you can do so, you'll need to install a Ford F-150 lift kit or an F-150 leveling kit. Explore the differences between lift and leveling kits before getting in touch with a Cedar Creek area parts center to get started.
Ride Quality & Ground Clearance
Smithville drivers who install lift or leveling kits are usually looking to get higher ground clearance and create the necessary space for a larger set of tires. In order to do this, the truck's body must be raised further above the axles. Both lift and leveling kits will achieve this, but there are some important differences you should note in order to make the right decision:
Leveling: With a leveling kit, you're able to lift the front end of your F-150 by about 1.5 to 2.5 inches. If you want to achieve a stock-style stance, you'll need to place a rear lift block on the rear leaf springs, creating a minor height increase at all four points. This will create the space needed for tires up to about 33 inches in diameter. Leveling kits are best used for towing, daily drives around LaGrange, and light off-roading.
Lifting: With an F-150 lift kit, you can increase your truck's ground clearance at all four corners by 3 to 12 inches, allowing enough space for 35-inch+ tires. If you frequently partake in heavy-duty off-roading, a lift kit is the smarter choice. Lift kits are best used for traversing mud, snow, and sand, and for heavy-duty off-roading.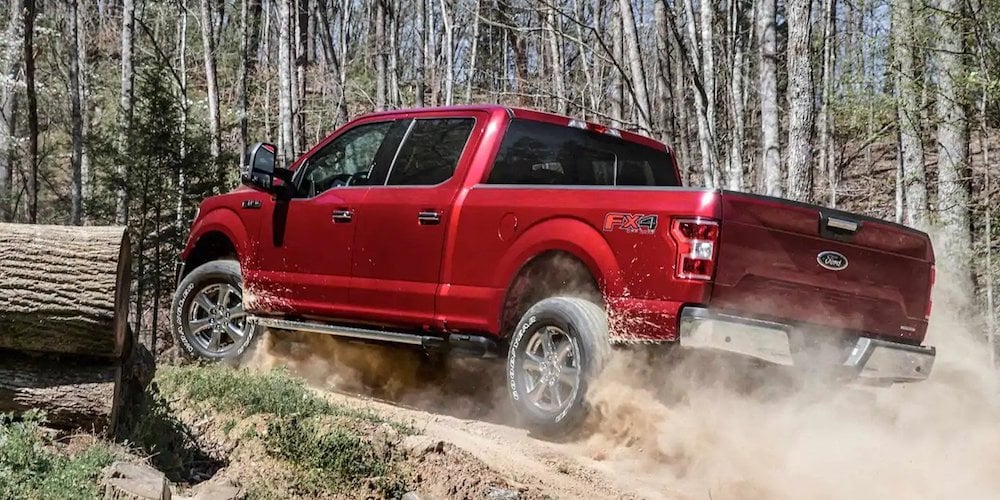 Price Range & Installation
You'll notice a pretty significant price difference in lift kits and leveling kits. While leveling kits generally range from $100 to $250, lift kits range from around $1,000 to $4,000, depending on what you want in terms of ride quality and height. Unless you're very experienced, you should leave lift kit installation to a professional service center, as an alignment is usually required afterward. Leveling kits, on the other hand, are very easy to install at home, usually only requiring a few hand tools.
Explore F-150 Lift and Leveling Kits at Sames Bastrop Ford
When you're ready to outfit your F-150 for adventure, turn to the professionals at Sames Bastrop Ford! We'll help you find the right lift or leveling kit for your intended use, and install it for you if necessary. Don't wait to get started! Schedule an appointment online today, and be sure to browse our parts specials for a great deal on your lift or leveling kit. Want to know more about Ford models? Learn how the Ford Ranger compares to the Chevy Colorado or how see the F-150 vs. F-250 Super Duty.