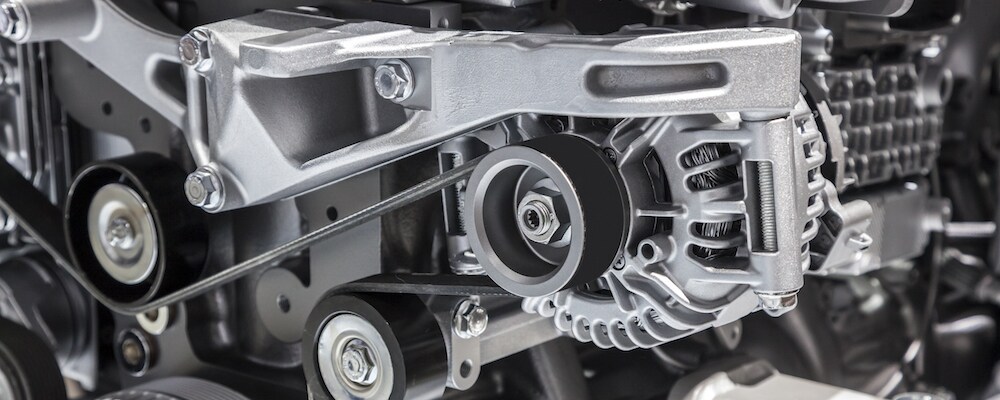 Whether you drive a new or used vehicle in Cedar Creek, the alternator is a vital component that sends power to your car's electrical system while you're driving or idling. Understandably, many drivers mistakenly assume that the battery powers the car, but it's really only used to turn on the ignition. The alternator, which functions as a generator, uses your gas engine as its energy source to power your vehicle. Learn more about what the alternator does and how long it should last with the service experts at Sames Bastrop Ford!
Typical Alternator Issues
If you're worried your alternator may be on its last leg, you'll know for sure if you notice any of these warning signs happening with your vehicle:
Battery warning light illuminating on the dashboard
Dim headlights or interior lights
Burning rubber smell under the hood
Devices not charging
Whining or screeching sound after starting the vehicle
Vehicle is unable to start
Failing Alternator vs. Battery
It is very common for drivers to mistake a failing alternator for a failing battery, but there are several ways to tell which of the two problems is occurring. If your vehicle is unable to start and needs a jump, move forward with the jump-start, then remove the jumper cables once it starts up again. If your vehicle proceeds to die right away, you'll know the issue is more than likely connected to the alternator. For peace of mind, you can have a certified technician take a look at your vehicle by scheduling an appointment with Sames Bastrop Ford, conveniently located near Smithville.
How Long Does an Alternator Last?
Typically, alternators are able to last between 80,000 and 150,000 miles, which equals about seven years for the average LaGrange driver. That said, there are a few factors that can cause your alternator to fail early:
Alternator quality
Driving conditions
Power drain on the alternator
How Much Is an Alternator?
Different makes and models require different alternators, so the price you'll pay for a new one can vary greatly. To get a free quote for your specific vehicle, give the Sames Bastrop Ford service center a call at 512-303-3000. We stock a wide variety of alternators, so we can find one for any vehicle, and our expert technicians are trained to work on all makes and models, so you can rest assured your new alternator is being installed properly and with great care.
Rely on Sames Bastrop Ford for Alternator Service and More!
If you already know the exact alternator you need and you're a DIY enthusiast who plans to install it at home in Austin, you can check in with our parts center to supply your new alternator. What's more, when you take advantage of our parts specials, you can snag it for a great price! If you have any remaining questions about alternators or other vehicle components, feel free to contact us.
Hours
Monday

9am-8pm

Tuesday

9am-8pm

Wednesday

9am-8pm

Thursday

9am-8pm

Friday

9am-8pm

Saturday

9am-6pm

Sunday

Closed