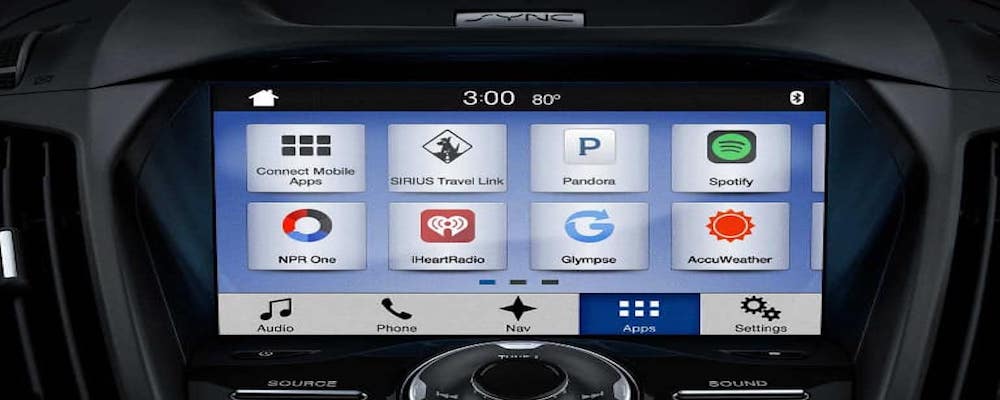 A new Ford vehicle, like the Ford Focus S or SE, comes with the connectivity and technology you want. This connectivity is powered through the Ford SYNC® platform. Using your Bluetooth-enabled phone and Ford infotainment system, connecting to to Ford SYNC® is done through a few simple steps. The connection process differs slightly depending on model year. If you want more connectivity on the roads of Smithville, read our guide below to get started!
Connecting to Ford SYNC® on a Newer Model
Connecting to SYNC® is quick and easy. On 2017 or newer models, as well as some SYNC®-equipped 2016 and 2015 models, the process is the same. Select 2016 and 2015 Ford models include:
2016 Models

Escape
Edge
F-150
Focus
Mustang

2015 Models
Turn on your phone, start your vehicle, flip on the radio/SYNC® system, and follow these steps to SYNC® your ride:
Activate the Bluetooth® system on your phone
Press the 'Phone' button on your infotainment center, then press 'Add'
In the Bluetooth® menu, search for pairings and select SYNC®
Read the six-digit PIN number on the SYNC® screen and make sure it matches the number on your phone
Once connected, you'll see a message on the SYNC® screen that says "Phone is connected"
Opt in for, or ignore, more phone options that you will be shown, like connecting your phonebook to the system
If your phone prompts you to allow SYNC® to access your phone, click 'Yes'
Done correctly, the SYNC® system will display the 'Phone Menu'
That's all it takes! Follow those simple steps and you'll have Ford SYNC® setup and be ready to stay connected on the streets of Cedar Creek.
Connecting to Ford SYNC® on an Older Model
If you have an older used Ford vehicle, or any Ford model not mentioned above, the process of connecting to SYNC® is slightly different. Make sure your phone, vehicle, and radio/SYNC® system are all turned on, then follow these steps:
Enable Bluetooth® on your phone
Press the 'Phone' button to open the Phone menu on your vehicle's screen
Press 'Ok' then 'Add a device', then press 'Ok' again
You'll see a prompt that SYNC® is ready to pair devices, press 'Ok'
A prompt will say to search for SYNC® on your phone, press 'Ok'
On the Bluetooth® menu of your phone, locate SYNC® and press it
A six-digit PIN number will appear on the SYNC® screen, enter it exactly into your phone
Opt for, or ignore, more phone options like pairing your phonebook
Grant access on your phone to SYNC® by selecting 'Yes' in the prompt
Exit the pairing process by hitting the back arrows to select 'Exit' and then press 'Cancel' to completely exit the Phone menu
With that, you're connected to Ford SYNC®!
Connect to Your Ride at Sames Bastrop Ford
Now the questions of, "How can I sync my ride?", is answered! The process is simple and with this handy guide makes it even easier! You can connect to this system with any SYNC® compatible phone to help navigate to family-friendly places in Bastrop. If you have any questions or concerns, feel free to contact us online, or stop by our Bastrop Ford dealership. In the meantime, learn about more Ford technology like Ford MyKey, Ford key fob programming, and Ford remote start.