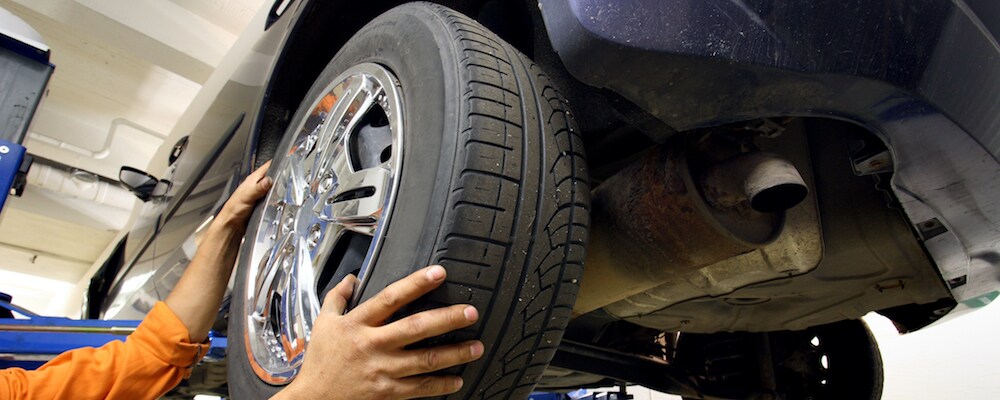 A tire rotation between 5-7,000 miles is a good ground rule to stick to. However, for exact specifications, always defer to your owner's manual. Still looking for a guide on when to rotate tires? The team at Sames Bastrop Ford has put together this handy guide for you! For all your service needs, turn to your local Bastrop Ford dealership and service center.
Rotating Tires on FWD and RWD Vehicles
Front-wheel and rear-wheel drive denotes where the power from the engine is directed. Front-wheel drive cars have the power sent to the front tires, rear-wheel drive to the rear tires. Because of this, the set of tires receiving the most engine power will wear faster than the other. If you drive a FWD or RWD vehicle, keep these tire rotation tips on hand:
On FWD or RWD cars, tire rotation needs to be done every 5,000 to 7,000 miles. Remember to consult your owner's manual for exact mileage intervals.
When rotating tires on a FWD, remember to flip sides when moving the rear tires. For example, the rear left tire will go to the front right. However, when moving the front tires back, keep them on the same side.
For RWD cars, invert the process. Flip sides when moving the front tires to the back, but keep rear tires on the same side when moving them forward.
Your driving habits, like off-roading, will affect when your tires need to be rotated. Speak with the service experts at Sames Bastrop Ford for a better idea of when this routine maintenance task should be performed.
AWD Tire Rotation Tips
Wondering how many miles to rotate tires on an AWD vehicle? Since each tire wears differently, and at different speeds, these vehicles work differently for tire rotations. Experts recommend rotating tires between 3,000 and 5,000 miles. Again, remember to always check your owner's manual for exact numbers. If it's been a while since you performed a tire rotation, schedule a service appointment at Sames Bastrop Ford. Our team will inspect your tires and see if they're due for a rotation. When tire tread variance exceeds 2/32 of an inch, it's generally time for a rotation.
Why Rotate Tires?
Tire rotations help to extend the life of your tires. Tire rotations give you additional benefits as well, including:
Less noise when driving
Improved traction on slippery roads
Relieves unnecessary stress on the drivetrain
Be better prepared to handle hazardous weather around LaGrange by keeping tire rotations as part of your overall maintenance schedule. Even with proper maintenance, tires won't last forever. If you need a replacement, reach out to our tire center.
Get Expert Tire Service at Sames Bastrop Ford
For more information on service or tire needs, contact us online today. Our certified technicians are standing by to help with any issues you have and answer all your questions about alternators or any other service topic. You can also take some time to learn about oil changes!
Hours
Monday

9am-8pm

Tuesday

9am-8pm

Wednesday

9am-8pm

Thursday

9am-8pm

Friday

9am-8pm

Saturday

9am-6pm

Sunday

Closed